Quick Redesign January 2021
Context
Urgent need to help businesses to more effectively navigate the funding landscape
Increasingly busy and more complex as new support and help becomes available
Customers not getting to the 'browse support' page and getting lost on 'coronavirus advice'
It's appearing from multiple partners with confusing user journeys, for niche sectors and with conflicting eligibility
Customers 'hedging their bets' on the best support for them
High levels of anxiety
Improve the 'end to end' comms process
Link ScotGov funding announcements with information on FBS
Funds being announced via blogs
Teams not knowing when announcements are being made
No line of site of what's coming next
We received lots of feedback about the site itself from a lot of stakeholders. Our aim is to help more businesses identify and access the funding they need, and reduce confusion about where to go for information.
FBS is part of a wider system, which is not working optimally

The approach we took
Undertaken a two-week intensive rapid improvement programme Coronavirus pages
Use research, user behaviour and analytics need to underpin the changes we want to make
Continue to iterate quickly
Try and make changes that don't require development, unless absolutely necessary
Analysis and research
Understanding user behaviour and preferences to help prioritise the actions to take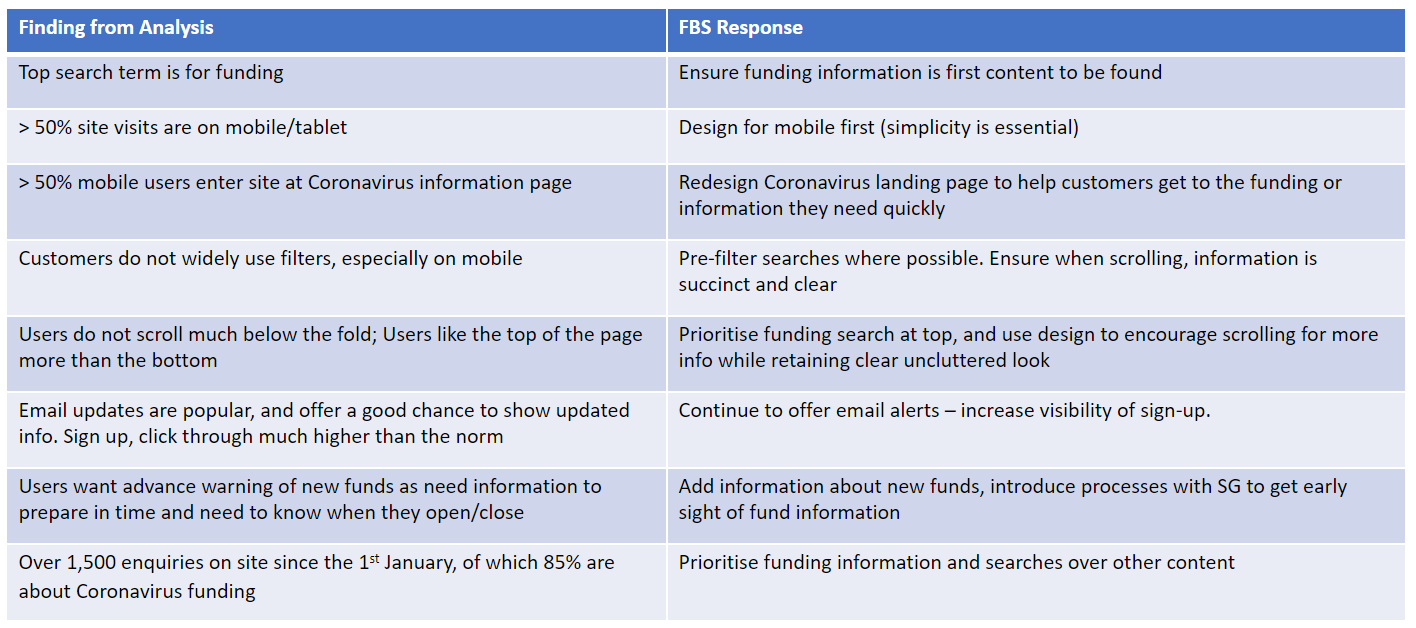 Changes made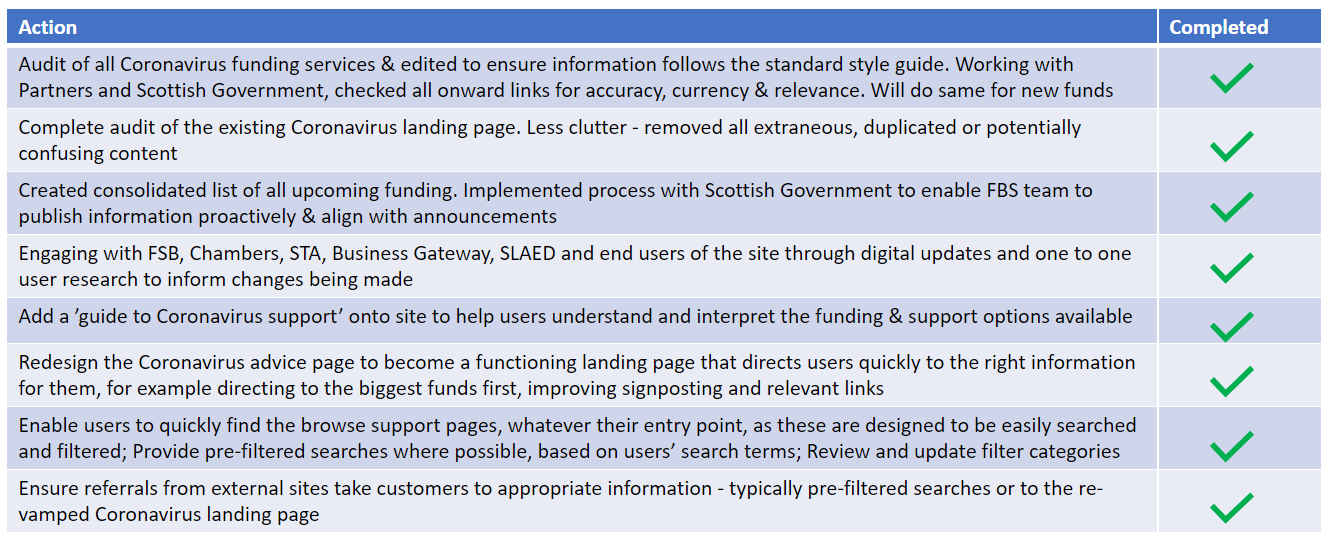 It's early days, but data analytics & user research are telling us …..
See the changes on the Covid advice page visually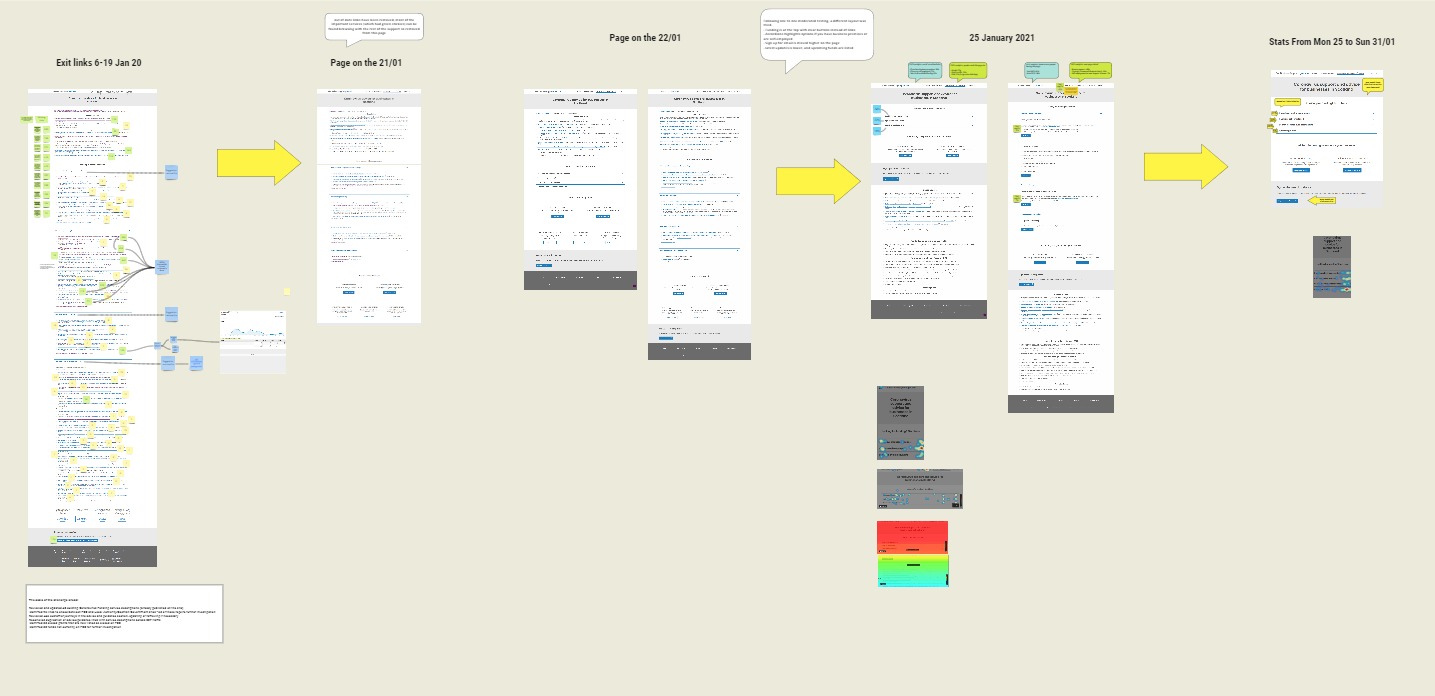 Next steps
FBS site
Ongoing engagement with users and business organisations, as well as using the analytics & insights - to inform further iterative change as and when needed
Wider funding landscape and environment
Work by Scottish Government is underway on simplifying and streamlining the funding landscape. FBS team can assist with user insight & analytics
Using existing Business Support Partnership channels, focus on the 'end to end' communication processes – to link announcements with partners so channels and content are aligned & ready
Further work needed to increase awareness of FBS and email updates, particularly amongst intermediary organisations
Ongoing sharing of user analytics and intelligence with public sector partners so that there is a more consistent user experience beyond FBS
Related research posts during this redesign
Last updated: 30 Aug 2021